Appropriate sleep ranges
Depending on age groups, there are some recommendations of appropriate sleep ranges that can help us scheduling sleep in a healthy range. We included these recommendations in the Sleep calculator.The recommendations are published in Sleep Health: The Journal of the National Sleep Foundation.

Signs you're not getting enough sleep
As we have seen, a good night's sleep helps the body and the mind to function in optimal conditions. Therefore, in its absence, we will feel the negative effects on our entire body.
What happens if we don't get enough sleep for a short period of time?
Suppose we sleep for a few nights, but not enough. If it only happens for a short time, most likely, we will not even feel the negative effects of this.
However, the negative effects of lack of sleep will be noticed when this happens several nights in a row and fatigue accumulates. This means that our body failed to perform its restorative functions during the night. As a result, if we do not get enough sleep for longer, we will notice that we become more irritable, that it is harder for us to concentrate, or that we have partially lost our dexterity.
About the same things will happen if we don't sleep one night at all.
In both situations, it will be more difficult, but not impossible for us to carry out our daily activities. The good news is that we will recover quite easily as soon as we sleep enough and well so that our body recovers.
What happens in the long run if we don't get enough sleep
If we do not rest enough for a longer period of time our body will feel many and intense negative effects. It is possible to
develop various heart or blood pressure disorders
become more susceptible to various diseases because our immune system will be weakened
gain weight because we will be tempted to eat more to make up for our lack of energy
have problems with memory and learning
Recovery in this situation will take some time and involves establishing and adhering to a regular sleep schedule.
But if the lack of sleep is total for more than 48 hours, among the negative effects that are installed on physical and mental health are hallucinations, anxiety, and depersonalization.
A consistent sleep routine is what will help us sleep well and enough so that our body functions at optimal parameters.
How To Improve Sleep and Sleep Hygiene
As we already presented, sleep is our body's first line of defense not only against fatigue but also infectious and potentially fatal diseases. That's because when we doze off, our body produces proteins called cytokines, which help fight off inflammation and infection so we don't get sick.
Normally, if our immune system is exposed to harmful pathogens or even stress, our body produces cytokines to offset them. However, when we are sleep-deprived, this response is hindered, which increases our chances of catching illnesses. That is probably why you get colds more often than others!
Needless to say, lack of sleep can compromise your immune response and allow diseases to take hold. This can happen if you have poor sleep hygiene. Sleep hygiene refers to behaviors and habits that are necessary to acquire quality sleep to ensure we remain alert during the day.
Signs of Poor Sleep Hygiene
Memory and Focus Issues
When we sleep, our brain forms neural connections that can help us process information and remember it later. If you have poor sleep hygiene, chances are you are forgetful and have trouble focusing at work. Similarly, you may also have trouble coming up with solutions to the simplest problems and can get into accidents easily.
Mood Swings
Poor sleep hygiene and sleep deprivation can make you hot-tempered, moody, and emotional. If left untreated, this can lead to depression and anxiety over time.
High Blood Pressure
If you sleep less than five hours at night, your risk of getting high blood pressure increases. In time, this can lead to heart conditions or worse, a stroke.
Weight Gain
If you are sleep-deprived, your brain fails to realize that you are full when you are eating. As a result, you are more likely to binge or overindulge to the point that you start gaining weight.
Reduced Sex Drive
Your libido can weaken if you don't sleep enough hours a night without interruption. In men, a decreased sex drive is typically due to a drop in testosterone levels.
Poor Balance
If you walk in a daze during most of the day or trip and fall quite often, you are sleep-deprived. Lack of sleep can affect balance and coordination, which can make you prone to accidents.
Tips for Improving Your Sleep Hygiene
Good sleep hygiene practices can help you avoid the aforementioned symptoms and remain alert and productive throughout your workday. Here are some sleep hygiene habits you should adopt to ensure this:
Sleep Hygiene Tip #1 – Set your Body Clock
Your body's internal clock determines when you feel tired enough to go to bed and how productive you remain. To maintain a healthy routine, go to sleep at the same time each night. This includes weekends, no matter how much you want to stay up and binge a show on Netflix.
If you do this successfully, your internal clock, as well as, the hormones that control your state of sleep and wakefulness, will harmonize. This will take some time to perfect in the beginning. You may even have some sleepless nights. However, if you stick to the same routine for some time, you will start getting extremely sleepy as soon as your bedtime rolls around.
Plus, do not disrupt your daytime routine even if you have trouble sleeping at night. Naps can disrupt your routine and you won't feel sleepy at night. You can go to bed earlier than you usually do to catch up. That way, you can get up at the proper time the next day, refreshed.
Sleep Hygiene Tip #2 - Start Winding Down When Bedtime Rolls Around
If you feel charged up before bedtime, your brain won't let you sleep for hours when you lie down. So before that time rolls around, spend an hour of quiet time with yourself. Read a book, have a warm bath, or listen to soft music to ease your stress.
When you are good and relaxed, make sure your bedroom is dark and quiet before sleeping. The sheets should be comfortable and the pillow should be fluffed up. If you feel a bit hungry, have a light snack before bed. Hunger pangs can interrupt your sleep and you may wake up feeling as tired as you were before.
Just don't have a heavy meal. A warm glass of milk should be sufficient. The tryptophan in the milk is a natural sleep inducer, which should relax you.
Sleep Hygiene Tip #3 – Unplug an Hour Before Bed
The more screen time you have, the longer it will take you to fall asleep at night. Before heading to bed, limit your use of smart devices at least an hour beforehand. The light can disrupt your internal clock and the emails, social media posts and games will keep your mind active.
Prevent that from happening by keeping your phone out of reach by keeping it in another room. If you need it (for the alarm, for instance), switch it to Airplane Mode or nighttime mode to block vibrations and the light if you receive notifications. You can also keep it face down on your nightstand for the same effect.
Sleep Hygiene Tip #4 – Don't Watch the Clock
If you stare at the digital clock on your bedside table or your cell phone every half hour, you are ruining your sleep. The bright light will interrupt your circadian rhythm by fooling your body into believing it is daytime. In other words, you will go to bed with a stressed mind and will wake up as tired as you were before.
Prevent this from happening by turning the face of the clock away from you and turning your phone face down. If you wake up in the middle of the night and cannot return to sleep for 20 minutes, get up. Do some light reading or listen to some soft music, instead. Do NOT grab your cell phone! You will remain awake until the wee hours of the morning then. When you cannot keep your eyes open, then turn over and doze off.
Sleep Hygiene Tip #5 – Do Some Light Exercise
If you are too restless to go to sleep at night, do some light exercise to tire yourself out. A small workout will also encourage your body to release sleep hormones called melatonin. Just time these small exercises wisely.
If you work out too close to your bedtime, you will be too full of adrenaline or stimulated to fall asleep quickly. Do some light stretches or yoga an hour beforehand. It will allow your body and mind time to wind down as well. Better yet, maintain a morning workout regime. At the end of the day, you will crash as soon as your bedtime rolls around without adrenaline keeping you awake.
Our sleeping habits define how we spend each day. Poor sleep hygiene can make you tired at work when your mind should be alert. The aforementioned tips should help you prevent this for a healthier lifestyle.
Optimize Your Bedroom for Better Sleep
We spend almost a third of our 24 hours a day in our bedroom. Therefore, if we want to spend quality time in this room, we should pay close attention to the way it is arranged.
First of all, let's establish very clearly that the bedroom must provide the perfect environment for a good sleep. From this point of view, we will have to take into account
Use warm, relaxing colors
Both the walls of the room and the color of the furniture or bedding must be one to our liking, which will relax us and invite us to sleep. If when we enter the bedroom we see in front of our eyes a red wall or a painting depicting scenes from the war, this will shake us, even without realizing it. Pastel colors and paintings with beautiful landscapes are preferable.
Furnish the room properly
The expression "less is more" is valid in this situation as well. The bedroom should include the furniture necessary to provide the necessary comfort, order, and calm for a bedroom. Overloading the room with things that are not related to rest, or a permanent mess will affect us negatively.
Comfortable mattress and pleasant bedding, comfy pillows, sheets, and blankets
Definitely, for a restful sleep, we need a good bed and a comfortable mattress. But just as important are the pillows, bedding and blankets used. All this must be to our liking, clean and beautifully arranged according to the situation. When we want to sleep we prepare the bed for sleep, and in the morning we arrange it nicely. This will help us to mentally enter the necessary state of rest in the evening or to animate ourselves in the morning.
Adequate light and quiet
It must be dark in the bedroom during the night, and in order to fall asleep easily we should give up using electronic devices some time before bedtime. Their brightness will delay the time we fall asleep. In addition, we could be distracted by using them. Instead, it will help us a lot if before bed we read a few pages of a book to our liking.
Although the dark is recommended for the night, during the day we must let the light and the sun enter the bedroom.
Air quality, temperature, and smell
An airy bedroom, with a low temperature and a pleasant aroma, will make us sleepy as we enter. We sleep deeper and rest much better when the environment is colder than when it is warmer and we tend to sleep restlessly. Therefore, an airy, cool bedroom with a light scent to our liking will facilitate quality sleep.
Plan your sleep hours
To truly enjoy the benefits of good sleep, it is not enough to just find out how many hours of sleep you should sleep or in what time frame. It is also very important to include these hours in your daily schedule and follow them. Otherwise, it is very easy to engage in other activities and because at some point it may seem that you do not have enough time, you may be tempted to reduce sleep hours.
In PlanArty I do my planning directly in the
Calendar
. This way I avoid overloading the daily schedule or overlapping tasks. I like to use it because it's easy to create new to-do list items right there or to adjust the schedule with drag & drop.
In addition, seeing the big picture of the daily program helps me a lot from several points of view:
Seeing my daily schedule helps me mentally prepare for the next day
I can choose to see only the to-do list items, both the just planned and the already donned ones and this gives me moral support when I see the daily achievements.
I select to see only my time-tracking records to understand exactly how I spent my time
Choosing to display both my time-tracking records and my to-do list items, helps me to discover my flaws in time management and take the necessary measures.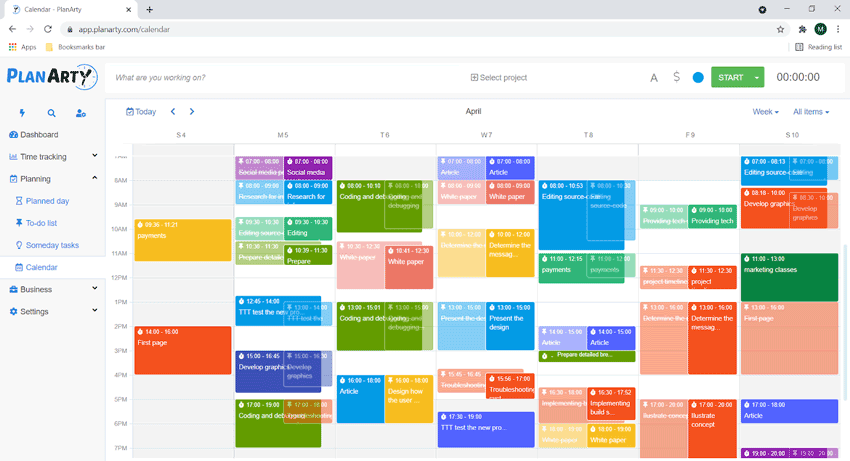 I entered in the Sleep calculator my age group, the fact that I am a morning person and I want to sleep 7 hours a day and wake up at 5 am, also that I like to take a nap stimulant, and I got the following recommendations:
Hours of night sleep: 6 hours and 40 minutes
Time interval for night sleep: 09:00 PM - 08:00 AM
Time to go to bed: 10:20 PM
Time to Wake up: 05:00AM
A 20 minutes nap: between 13:00 PM and 14:30 PM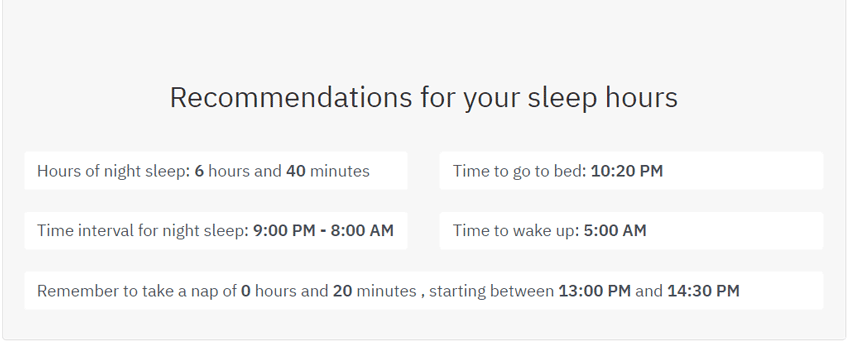 I know from previous experiences that if I am not well-rested, I cannot perform as well as I want, it feels like I do not have enough energy. This makes me unable to concentrate enough and work efficiently, so some activities take me longer than I should. Therefore I fall behind with some things and am tempted to give up rest times (or sports) to catch up. But that makes me enter a vicious circle because the next day I will be tired again because I didn't get enough rest, and so on.
Given these things, when I plan next week I make sure that before planning other activities, I block the time intervals needed for night sleep and daily naps. I do the same thing with the time needed for daily activities such as my morning and evening routines, sports, family time, or dining. This is how I make sure I have all the conditions to perform at full capacity.
As I said, I do this directly in PlanArty's Calendar, and this is what the beginning of weekly planning looks like in my case.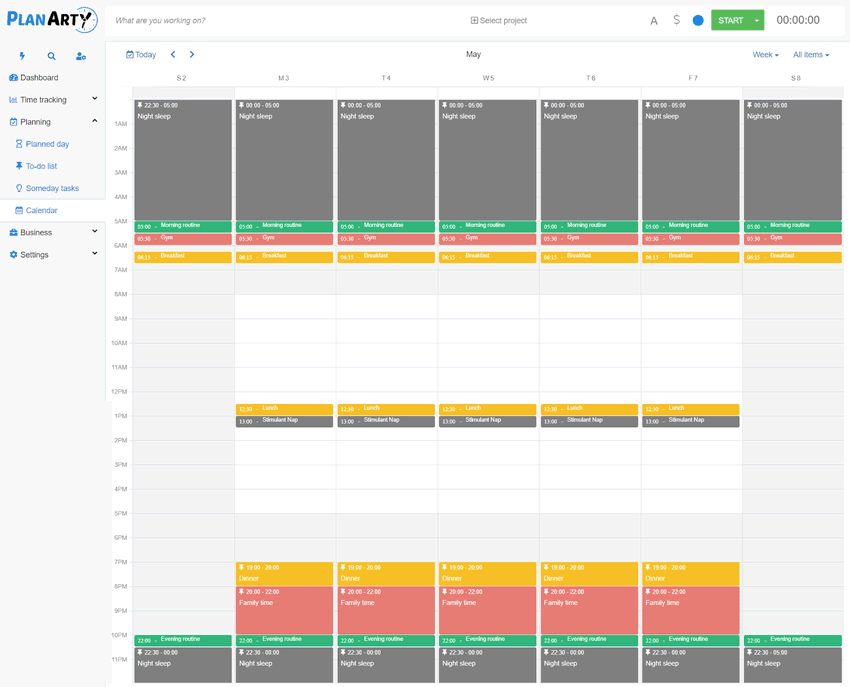 Daily schedule and time tracking
After that, I continue to plan everything I have to do, in the order of the priorities that I consider appropriate. As I start working on the planned activities, click Start on them and the related time-tracking record is initiated. And once I have finished working on a to-do item, I mark it as "done."
Also in Calendar select the option to display both my To-do items and Time-tracking records. These are marked with identification Icons, and the activities already performed are displayed in a different color. Thus, I can see at any time what is the exact situation of my activities and, if necessary, I can take the necessary measures in a timely manner.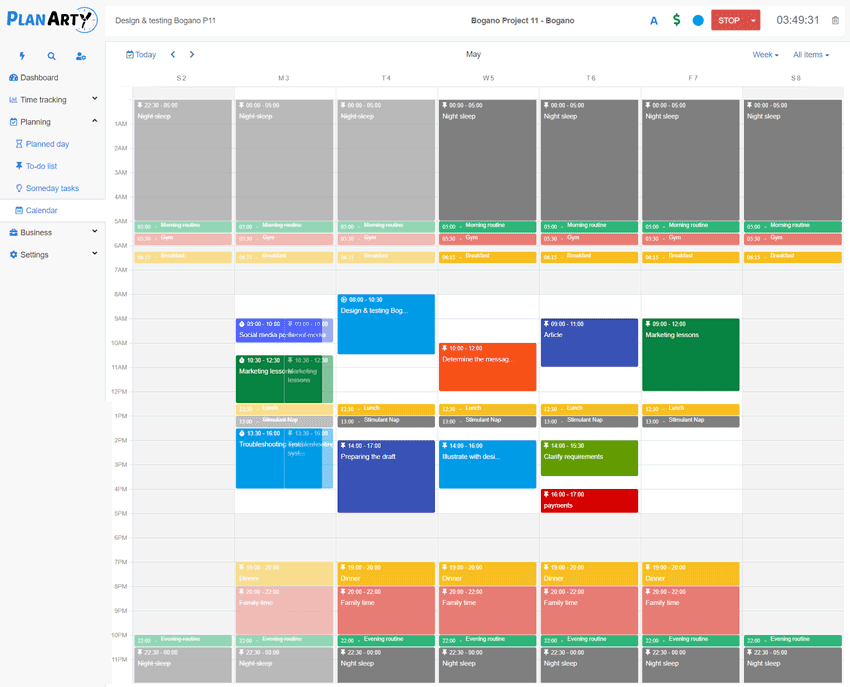 Time accountability
Once I've made my plans and tracked my time, I turn to the Planned vs. Real that I make sure I keep myself on track. For example, as it turned out to use the Sleep Calculator, I planned to sleep 7 hours a day, spread over 6 hours and 30 minutes at night, plus a 30 minutes Stimulant nap stimulant after lunch.
In addition to the hours of sleep, I set a number of hours for certain professional activities that I have to do daily. For example, I want to make sure that I dedicate about 4 hours a day to programming and that I allocate 3 hours a day to writing. Note that these activities are not included in my weekend schedule.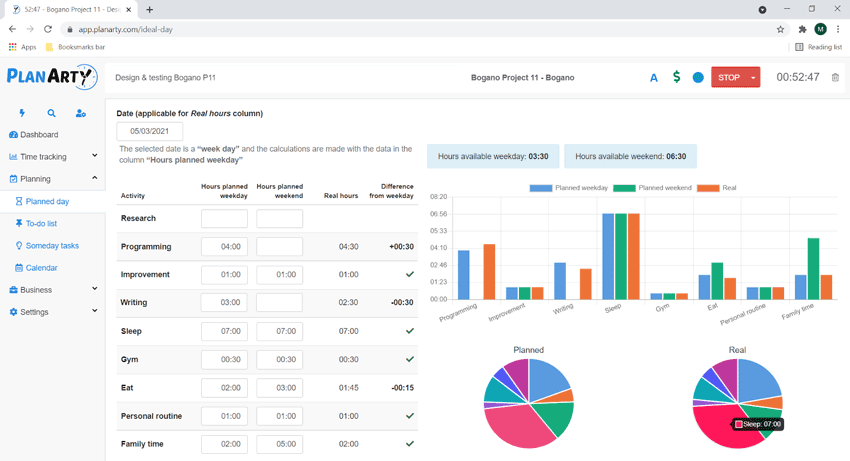 The objective comparison is displayed both numerically and visually (in the two charts). This is how I can clearly see the difference between what I set out to do and the time that I have spent in reality with those activities. It is also taken into account that my schedule on a weekend day is different from that one of working weekdays.
It is very clear that I respected my hours of sleep and the time I set out to spend with my family. However, the same did not happen with my writing or programming. In these cases, on the selected date, for each, I worked 30 minutes less than I had intended.
The big advantage is that I can view this situation at any time, even during the day. This way, if necessary, I can make the necessary adjustments on the go, so that I can get back on track in no time.
The bottom line is that once I've calculated my sleep hours, I need to include them in my daily planning and make sure I respect them. This is the only way I will have the level of energy, inspiration, and productivity I need to work efficiently and reach my goals. And I do that. What about you?
---

Mariana Holostenco
Contributor at PlanArty
ABOUT THE AUTHOR
Economist with a degree in Marketing and International Economic Affairs. Mariana is passionate about efficient time management in business. Therefore, she shares with our readers and our team members her knowledge and experience in this domain.
---